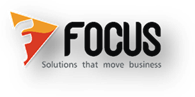 OmniSystems Network Solutions Pty Ltd has come into a strategic alliance with Focus Softnet Pty Ltd to strengthen its abilities in providing ERP, CRM, Supply Chain Management, Academic Solutions, BI, Web Based and many other vertical specific business solutions.
Focus Softnet is a multinational Business software solution and Information Technology Company established in the year 1992. With business associates across the globe, partnering with respected organizations, which help leverage optimal performance and technical standards, today Focus Softnet has evolved into a true multinational organization with 25 offices across 15 countries.
As an IT solutions provider with over 20 years of experience and multi-domain expertise, Focus Softnet's consulting services and skill sets are backed by a vast knowledge-base and a keen understanding of what it takes to run and grow a business. By re-engineering business processes and optimizing resources, developing and deploying user-friendly, flexible and cost-efficient industry specific solutions, Focus Softnet has helped over 30,000 clients across the globe increase productivity and efficiency, and run better. For detailed understanding of its solutions and services, please contact Omni Systems.

 Karmaz Innovation is a niche IT Services organization with profound efficiency in IT Security, IT Infrastructure, IT Service Management and Smart App Development , Dynamic & Static Website Development. Worthy of its name, KI have developed a plethora of advanced IT skills, resources and methodologies to help our clients achieve and exceed their business objectives in various approaches like Managed Services, Project Delivery and Staffing Services. To address our client's challenge of high cost, we are soon becoming a highly cost-effective preferred 'one-stop shop' for IT Services. We provide uncluttered and simple solutions to implement IT services through our innovative 'anywhere, anytime access solutions'.